When I talk to recruiters about productivity, their main hope is that I'll give them advice on how to become superheros. I'll help them cram even more into their days. But I took a very different approach to talking about productivity at the most recent Sourcing Summit: #SOSUMED.



We're exhausted

As I went up on stage, closing day one, I was full of energy and excitement. But it's way easier not to fall asleep when you're standing and talking. I knew my audience – all of the amazing sourcers who were there from 9am that morning – wouldn't be able to hold on for much longer in the way too comfortable seats of Hot Cinema.
Not only were they listening to presentations for 8 hours that day, they were ALL also checking their work email!
If this sounds familiar, then this blog post is for you. We set the expectations too high, we want to do it all, but that is simply not possible. So how can we change our work (and life) habits to feel better and get back to shape, so we can really be productive?



Understand your current productivity

When I first realised how unproductive I've become, I decided to measure exactly how much I can get done at work. I was feeling busy, but just not getting much done.
This step is simply diagnosis and there's a whole bunch of tools out there to help you. My assistant, for example, uses Toggl, while I discovered a new favourite: Timeular.



By looking back at my week I can see how much time I spent on a task vs how much I actually accomplished and learn from that. Some days I try to push through even though it makes no sense, my productivity is way too low. Other days, I can see that even by working one hour I can cross off a lot of important items from my list.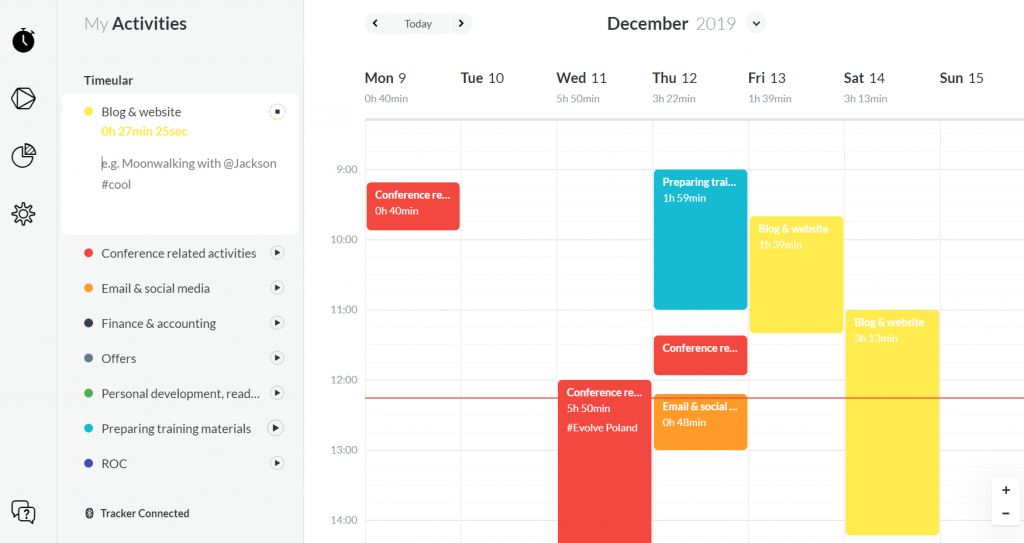 My learning from the last couple of months is that I'm most productive if I work up to 4 hours a day. There are days when I work more, but that's typically when I work on tasks that are really fun and keep me energised.



Ask yourself the right questions

We're not all freelancers, I know. It's important to understand how you can be productive (and well rested) working within a team and a company.



To be able to have a conversation with your manager, to discuss what you need to be more productive, ask yourself these questions:


Which tasks take up most of your time? Are these the tasks that your manager had in mind for you when hiring you? Could you possibly delegate some?
Which tasks require you to focus? When would it be easiest for you to perform them?
Which tasks do you enjoy the most?
Which tasks is your performance measured on?

Recruiters usually tell me they can't not reply to emails immediately after they receive them. But look at question number 4: none of them have targets set around reploying to emails. So it's up to you to have an honest conversation with your manager about how to create an environment where you can achieve what's most important. My guess is that for those of us in recruitment, it's not being accessible all the time, it's making hires that determines our success.



Create better habits

There are tiny changes to your work you can implement to help your productivity. It starts with a more deliberate approach to planning your work.



Don't plan too much for one day. Divide your tasks into "must do today" and "would like to do today", with the first group limited to 3 tasks at most. Being more realistic about what you can do will help you feel better about how much you're getting done, and it will make it easier to coordinate work with other people.
Take breaks whenever you see yourself slowing down. There's no point sitting in front of your computer unless you're actually getting things done. Take a walk, grab coffee, talk to someone. Your brain will get the necessary rest so you can get back to your normal speed.
Practice focused work. This involves creating rituals for tasks that require a lot of focus. For example, I find I write blog posts quicker if I always do it on a Monday morning, with my phone switched off.



This is just the beginning…

We have been talking about work-life balance for a long time. But we still haven't really mastered it ourselves. If we want to become more credible discussing it with our candidates, we need to find ways to look after our own productivity.
It seems to me from the response I got from the audience that this is a topic we should all discuss a little more often. So I'm looking forward to having those conversations with anyone interested! We can overcome the pressure of being overproductive together 🙂