At the end of 2018 I was horrified to realise that I'm always distracted. It took so much effort to focus on anything. Time management was difficult and never seemed to bring the results I was looking for.
Since then, I've been working on my productivity every day and I've spoken about it at conferences several times too.



Productivity management isn't easy because it's not a one off and you're never really done with it. If I have a really good Monday, that's all it is – it doesn't guarantee I'll be as productive on Tuesday or any other day od the week.
So I started testing different approaches and tools, which did not go unnoticed by Facebook. Soon I was targeted with an ad for a time tracking gadget. By then I had already tried Toggl and didn't really see much success from using it, so I initially ignored the ads completely. But then I finally broke and researched the tool properly, looking for review, YouTube videos and… I ended up buying it for myself a birthday gift.





Timeular is a time tracking app. It's hardly anything new, you might say and that's true. But there are two main reasons why I think I was able to see great results from using it after failing with so many similar tools.
First, Timeular allows you to review the activities you tracked in the form of calendar entries. I felt it gave me way more clarity than any report any other app offered. You can look at your calendar to identify gaps, see when you were able to stick to one activity for a long time and when you kept switching from one task to another.
You can then confront what you planned to do (your regular calendar) with what you ended up doing with your day (your Timeular calendar). And with a pro subscription, you get to integrate the two calendars to make things ecen easier.


Second, Timeular also provides a time tracking device you can buy and integrate with the app. This means you no longer have to remember to click "play" or "stop" in your app, instead there's a cube on your desk that you simply turn from one side to another when you switch between tasks.
It doesn't seem like much – that's certainly what I thought at first – but this ended up to be the game changing detail I needed to finally track my time accurately!




How does the tracker work?

The tracker looks like a dice with eight surfaces. You can write on the surfaces and/or put stickers on it to make sure you know what they track. You can assign one activity to each surface. When you're not working, you simply put the tracker away, facing up (just like it des in the photo).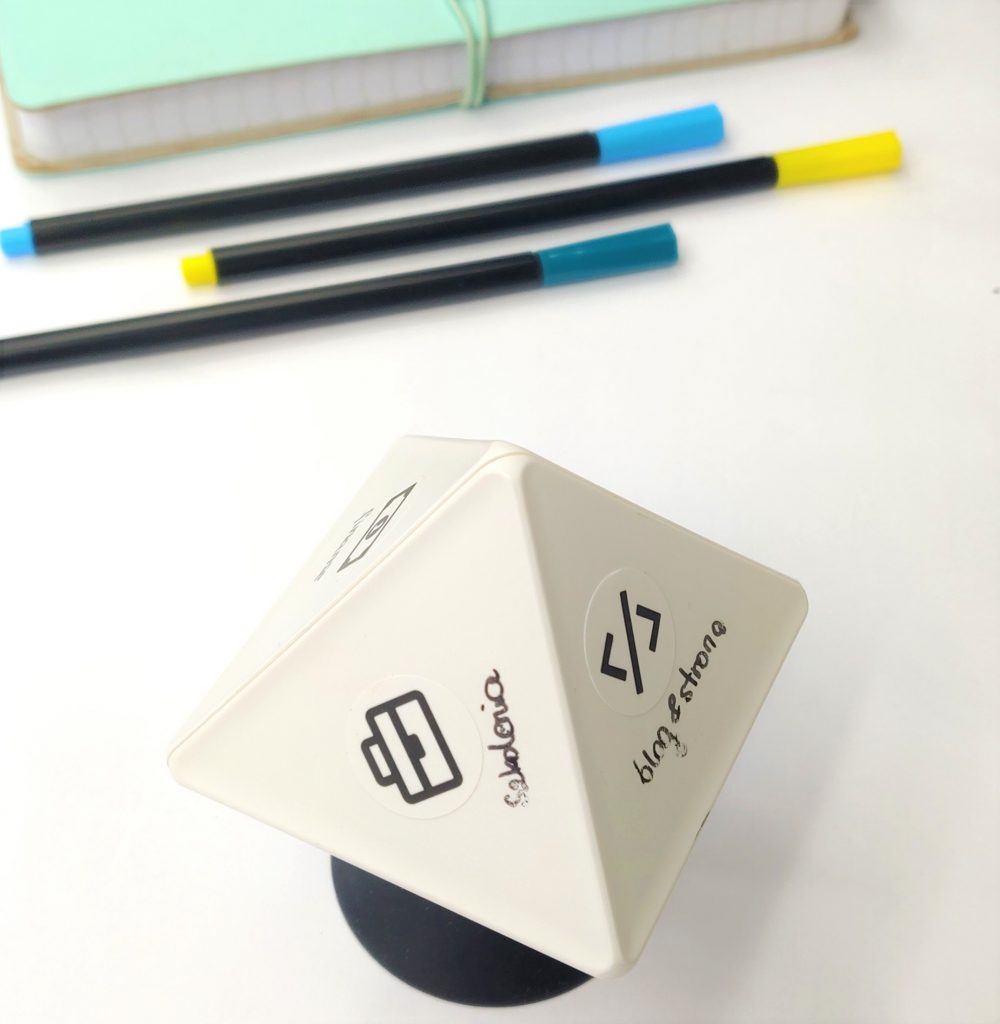 When you want to start tracking your time, simply put the tracker down making sure the right activity is facing up. Don't worry if your activity changes over time – you can wash the text of the surface and assign it to a new activity if you need to.



How does the app work?

You can install the Timeular app on your laptop and your phone. You can use it without the tracker, in which case you'll be able to manually start tracking for each activity (and remember to stop tracking too!)
The app allows you to create as many activities to track for as you can, but remember you can only assign 8 to each tracker. You can use stickers or a marker to make sure you don't get confused tracking the right activities. Whenever you need to, you may reassign surfaces of the tracker to new activities – which helped me when my activities changed completely due to Covid-19.
The app allows you to add tags and notes to your time entries, which I found was a really great function. This way I can track time for big items, such as preparing training or personal development, but I can add more details to time entries making sure I can create more detailed reports of my activity.
The pro subscription also allows you to create Shared Spaces and track your time together with your entire team. While I haven't had a chance to use this yet, I can only imagine how useful it can be! The Timeular team ensured Shared Spaces can't be used for evil 😉 your team manager won't have visibility of the activities you track for until 24 hours later.


What to keep in mind when using time tracking apps?

Regardless of what app you're using to track your time, here are some tips you may find useful:

Keep the list of activities you track for small. I really like that Timeular forced me to think about the big items on my to do list and guess what? At first it turned out I had onlu 7 activities on my list, with 1 more to spare.

As an example, one of the activities I track for is preparing for conferences. Every time I create a time entry for this activity, I add an additional tag for the specific conference, so I can filter through them in my reports. It wouldn't make sense to track preparing for each conference using separate activities as this would complicate the reports unnecessarily.


Use 15 minutes at the end of each day to look at your calendar. Review your time tracking entries, make sure there are no mistakes. You won't remember the details of what you've been up to later without the right notes.


Also use that time to review your productivity for the day and – most importantly – to plan any improvements to the next day. The aim of time tracking isn't only to know where you spend your time. It is to improve your productivity and make syre you use the time as efficiently as possible.

Perhaps you could automate some of your activities? Or delegate them? Maybe you could simply let them go if they don't bring the right results? Or maybe you can try and go through them at a specific time during the day, when you tend to be most productive?Być może któreś czynności warto zautomatyzować? Oddelegować? Zrezygnować z nich zupełnie, jeśli nie przynoszą określonych rezultatów? A może pewne czynności warto wykonywać o konkretnych porach dnia, żeby uporać się z nimi szybciej?

You can answer all of these questions if you track your time the right way 🙂

PS. In the interest of full disclosure, I completely fell in love with Timeular and so after mentioning it at several conferences and getting seeing lots of interest, I decided to join their affiliate programme.